Breakfasts You Can't Beat
Whether you're an early riser or you prefer to sleep in (that's why the snooze button is there, after all), the first meal of the day is definitely something that can get you up and out of bed.
The jury is still out on whether or not breakfast is the most important meal of the day, but we can get so many benefits from starting our day with something to eat. Research has shown that it can boost our overall health and emotional well-being, and improve our memory and concentration. Not to mention, it's an opportunity to start our day with something delicious.
So if you're looking to "break the fast" in a tasty way, here's some inspiration for you!
Apple Pie Oatmeal
What you'll need:
1/4 cup quick-cook oats
1/2 cup milk or water
1/2 cup diced apple
1/2 of a ripe banana
1 date
1 tsp apple pie spice or cinnamon
How to make it:
Add your oats and milk or water to a small pot and set the heat to medium-low.
As your oats cook, mash up half of a banana (you could use a whole banana depending on your hunger levels), and chop up the date. Add these to the oats and stir until everything is blended.
Chop the apple and add that to the pot along with the spices.
After that, you're ready to plate (or in this case, bowl) it up! You can also add some crunch with almonds, and bump up the nutrition with hemp hearts, which are rich in healthy fats.
Avocado and Chickpea Breakfast Sandwich
What you'll need:
A small handful of spinach
1-2 tomato slices
1 whole-wheat English muffin
1 egg
1/2 cup chickpeas
1/2 avocado
1-2 tsp lemon juice
1/3 cup shredded carrot
1-2 tsp Sriracha
How to make it:
First, toast up your English muffin. While that's going, mash up the avocado in a bowl and add your chickpeas, lemon juice, and Sriracha.
Next, lightly grease a skillet before cracking an egg into it, sunnyside up. Turn the heat onto medium and cook the egg until the white is no longer liquid.
To assemble: Add your spinach, tomato, and avocado-chickpea mixture to the bottom half of the English muffin before topping with the shredded carrot, egg, and the other half of the English muffin. Then, you're ready to eat!

The chickpeas and egg are rich in protein, while the avocado has lots of healthy fats. When you put those together with fiber-rich foods like the shredded carrot and whole-wheat English muffin, you've got a breakfast that will keep you full!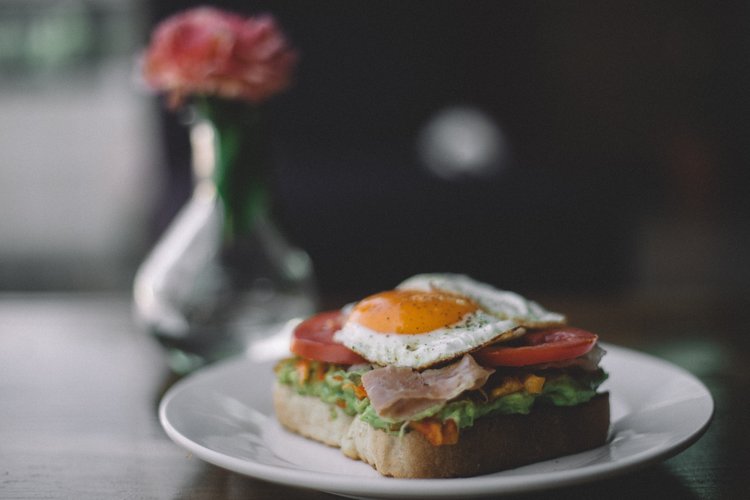 Summertime Berry Parfait
What you'll need:
3/4 cup plain Greek yogurt
1 cup berries (any kind)
1/2 cup granola (you can also use lightly sweetened cereal)
1/4 cup of nuts (almonds, walnuts, or even pistachios!)
How to make it:
This is a no-cook recipe, perfect for hotter summer days.
Simply add a layer of yogurt to the bottom of a bowl, then sprinkle on some of the granola, then berries. Keep adding the layers until the ingredients are gone. Then, you're ready to enjoy!
This breakfast has everything you'll need to get you going, from healthy satiating fats in the yogurt and nuts to the fiber in the berries and granola. It's also packed with flavor, with the crunchy walnuts mixing beautifully with the sweetness of the berries and the creaminess of the yogurt.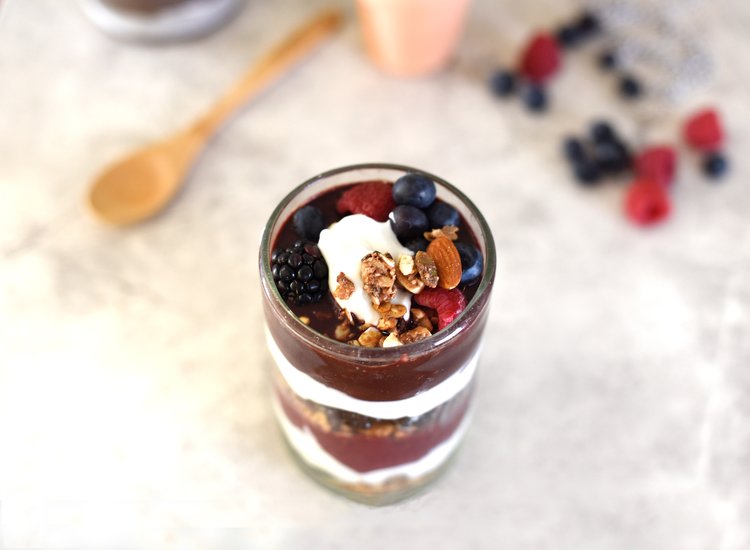 Baklava-Inspired French Toast
What you'll need:
1/4 cup walnuts or pistachios, or a mix of both
2 tsp honey
1 or 2 slices of whole-wheat bread
1 large egg
2 tbsp milk
1 tsp cinnamon
How it's made:
Scramble your eggs, milk, honey, and cinnamon all together then soak your bread in the egg mixture. Place your bread in a pan set to medium-high and cook until nicely browned on both sides.
Plate up and sprinkle the nuts over the pieces of toast, drizzling a little more honey on top. Then, dig in!
The nuts add protein and healthy fats, and combined with the cinnamon and honey are deliciously reminiscent of sweet, nutty baklava.

If there's one thing we know for sure, it's that variety is the spice of life. Eating the same breakfast all the time – even if it's very nutritious – can get a little boring. If you want to expand your breakfast repertoire, then it's absolutely worth it to explore different tastes and textures and try something new.